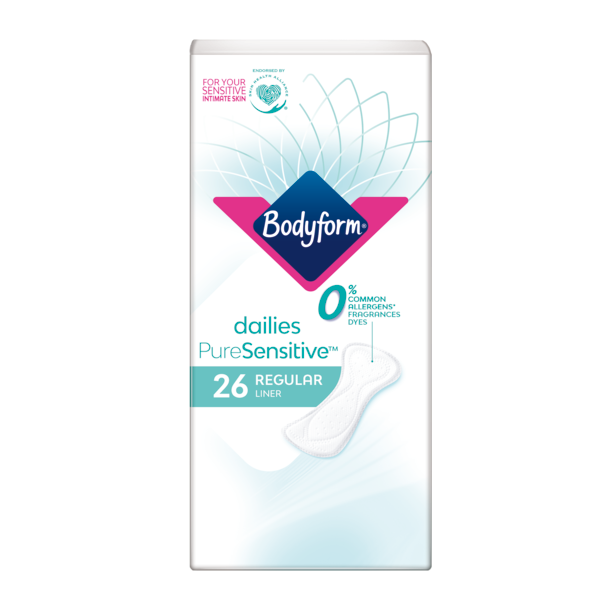 PureSensitive™ Daily Intimate Liners
A simple way to help your v-zone feel fresh and dry is to pop a liner into your underwear.
You'll want to choose one that's gentle to your sensitive intimate skin, especially if you have sensitive intimate skin.

With that in mind, we've designed our Bodyform PureSensitive™ Daily Intimate Liner.
As part of our V-Care™ range it has an extra-gentle top layer, which helps prevent rubbing or chafing. And because it doesn't contain common allergens, fragrances or dyes, it won't irritate your most sensitive intimate skin.



super-heavy flow
V-Flow meter
Every woman's flow is unique. So use our V-flow indicator to find your ideal towel. The higher the level of red in the V, the more absorbent the towel.
Reasons to love:
0% common allergens* , 0% fragrances and 0% dyes to help reduce the risk of irritation
Skin-friendly materials that keep your most sensitive intimate skin gently protected
Extra-gentle top layer that prevents rubbing and chafing
Suitable for everyday use
Bodyform
7322541048420