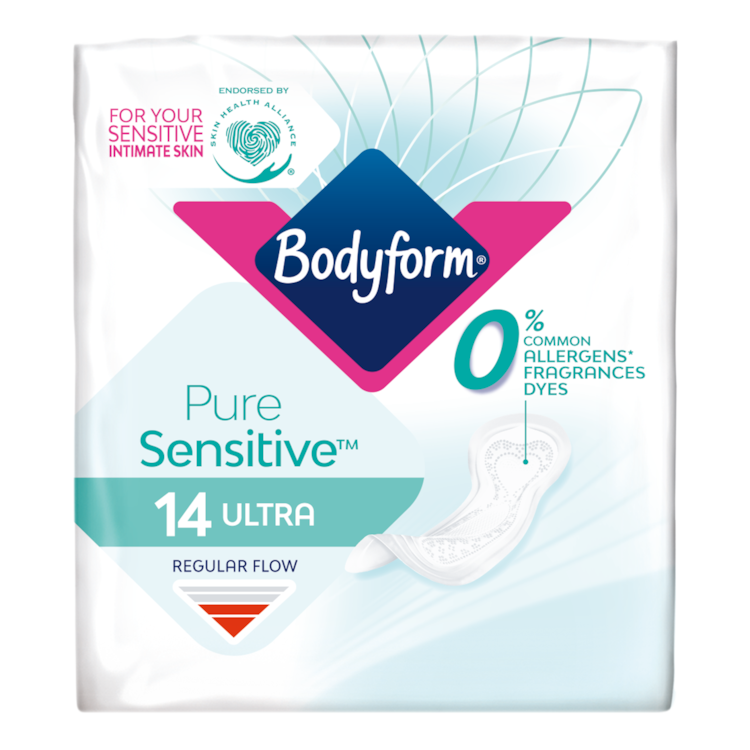 PureSensitive™ Ultra Normal Towels
At Bodyform we know that sensitive intimate skin deserves special care, especially during your period.
With this in mind, we've developed our PureSensitive™ Ultra Normal Towels.
Zero common allergens*, zero dyes and zero fragrances to help minimise the risk of intimate skin irritation.

The extra gentle top layer prevents you from experiencing rubbing or chafing. Our towel also gently protects you and your most sensitive intimate skin during your period.


regular flow
V-Flow meter
Every woman's flow is unique. So use our V-flow indicator to find your ideal towel. The higher the level of red in the V, the more absorbent the towel.
Skin-friendly materials that keep your most sensitive intimate skin gently protected
Extra-gentle top layer that prevents rubbing and chafing
0% common allergens* , 0% fragrances and 0% dyes to help reduce the risk of irritation
SecureFit™ ensures total protection