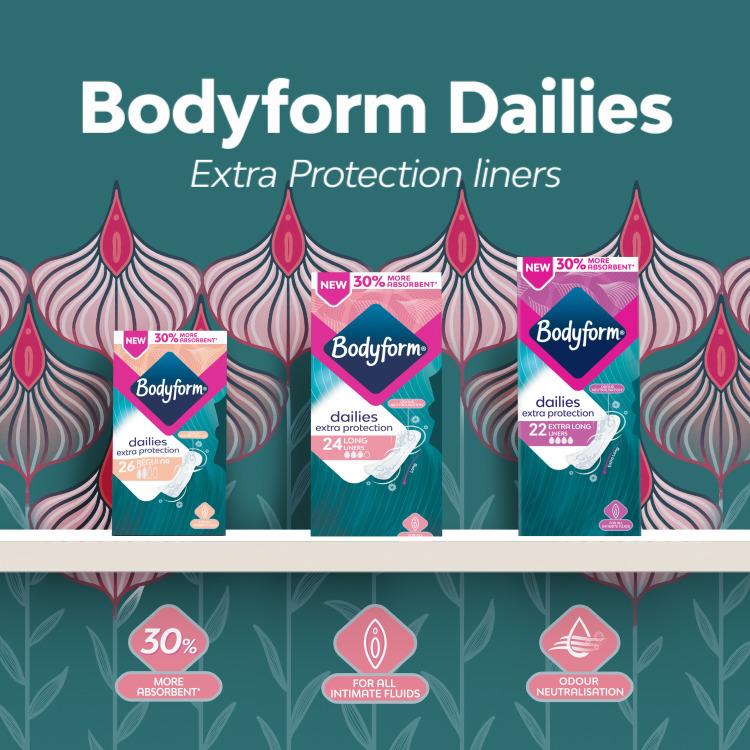 Blood, sweat, discharge or a little pee – let's talk about it all
Glorious, unpredictable and messy, every day is different
There are days when our bodies feel like a lottery:
 Bloody spots before your period.
Sneezes that lead to a little pee. 
Sticky brown discharge.
Sweat.
Even though most of these fluids are a sign of a healthy V-Zone*, and most women will experience some or all of them in her lifetime, we're all keeping it hidden. It's our embarrassing little secret.
We've decided that we don't want to keep secrets anymore. So we're shining a light on intimate fluids in all their messy unpredictable glory.
The embarrassing trips to the bathroom. 
The pants hidden from partners. 
The toilet paper folded in knickers.
Nothing is too shameful or embarrassing. And nothing is off the table.
Your intimate fluids are not a taboo, so let's start recognising them as something that we all experience in some shape or form**.
of women are uncomfortable talking about vaginal health
of people have been taught about vaginal discharge
women think bladder leakage is shameful†
Sex education at school was all about monthly cycles and periods, but who remembers learning that the vagina expresses itself with many fluids? 
Nobody said your knickers would get damp with sweat in summer. 
There was no mention of bloody spots before or after your period.  
Not one person said that discharge is proof that your vagina is healthy.
And were we ever told that incontinence was something common among men and women, and something that can happen at any age too?
We're not given the right language to talk about our own bodies. So when these things do arise, we're embarrassed, ashamed and we don't know who to talk to.
It's time we started looking at the facts.
women experience urinary incontinence at some time in their lives** [1]
pregnant women experience spotting in their first trimester [2]
of women experience discharge throughout their life [3]
Dailies Extra Protection Liners
We've created our Dailies Extra Protection Liners so you can live each day with confidence. They're great for spotting, a little pee, discharge, sexual fluids and sweat.
Sometimes you need a product that supports you no matter what your body decides to do. Or as we like to call it, a non-judgmental liner that's happy to help with any of your intimate fluids.
Absorb 30% more than our regular liners††
Reduce dampness and neutralize odours
Breathable material that encourages airflow, leaving you feeling fresh no matter what
To find out more about our new Extra Protection Liners, please use the links below:
* V-Zone refers to the area of skin that begins under your belly button where your pubic hair growth starts and ends between your thighs (but not inside the vagina)
** Although incontinence is common, you should always seek medical advice if you experience it
† Based on primary research carried out by Libresse in 2020
†† vs our Dailies Fresh Regular liner