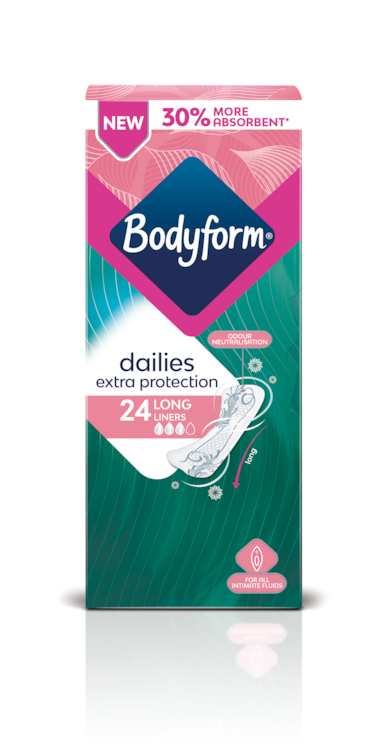 Extra Protection
New Extra Protection Long Liner
Bodyform Extra Protection Long Liners are the ultimate multi-tasker for all of your needs, with the closest curve-hugging fit for you and your underwear. They also offer a little extra length and an absorbent core to give you extra confidence as you go about your day.
Extra Protection
For drops and flows of any shade – blood, spotting, discharge, pee or mystery flows… you name it. Our Extra Protection Long Liners leave you fresh and clean, no matter what. They absorb 30% more*, which means they deal with pee, not just discharge and spotting. Plus they are super-breathable and lock odour in – because it's nobody's business whether you've had a few drops.
Curvefit
Bodyform Extra Protection Long Liners have CurveFit technology, making them more flexible and absorbent. They are shaped to fit snugly between your legs with a wider front so they stay in place.
* +30% more absorbent than a "regular" Bodyform liner